A number of top British eventing riders got together earlier this monthto help celebrate the launch of the UK's third Gastric Ulcer AwarenessMonth (GUAM) for May 2009.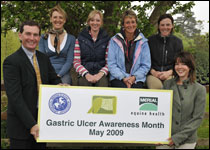 Pictured (from left to right) the riders are Matt Ryan, Marie Ryan, Georgie Spence, Mary King, Lucy Wiegersma and Emily Baldwin.
GUAM is supported by the British Equine Veterinary Association (BEVA) and organised by Merial Animal Health. Dr Emma Batson of Merial explains: "Since the first GUAM in 2007, significant progress has been made in developing awareness of equine gastric ulcer syndrome.
"However there is still more to do! We know that approximately 60 per cent of competition horses and 40 per cent of leisure horses have ulcers, but the number diagnosed and treated falls well short of this.
"Our goal is to move gastric ulcers further up the diagnostic process for all horses presenting with the vague symptoms associated with the condition. So we're really grateful to these riders for taking time out of their busy schedules to help to raise awareness of this much underrated condition."
For more information and to find out the level of risk for your horse visit www.equinegastriculcers.co.uk