World-leading institute moves into new £60million home based at the University of Edinburgh's Easter Bush Campus.
Researchers at The Roslin Institute are set to move into a new £60million home, sited at the University of Edinburgh's Easter Bush Campus.
The three-storey building, which covers 14,000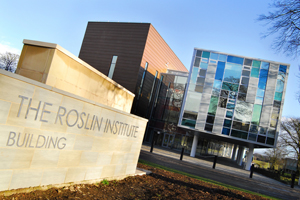 square metres, officially opened on Wednesday June 29. A total of 500 scientists will work at the purpose-built centre where research will focus on improving the health and welfare of livestock as well as the sustainability of the livestock sector.
Expertise at the site will also cover immunology and infectious disease, clinical sciences as well as genetics and genomics.
Professor David Hume, director of The Roslin Institute said: "The new building is designed to maximise cooperation amongst our experts. Our new home will help us tackle complex problems ranging from fertility and reproduction through the threats of diseases such as avian flu and tuberculosis to animal welfare and greenhouse gas emissions. We now have an iconic building that is instantly recognisable."
The new building's design was inspired by the shape of a pair of chromosomes, with a rainbow progression of coloured panels that link offices with research laboratories. It houses open-plan working spaces, with break-out areas, designed to encourage collaboration between scientists from different disciplines. The building also contains an auditorium and meeting facilities.
The building has received an award from Architecture Scotland and has been nominated for a number of additional building and design awards. 
The new building forms part of a £100million development at the University of Edinburgh's Easter Bush campus, which includes a new teaching building for the Royal (Dick) School of Veterinary Studies.