The Kennel Club has announced that it has approved a new DNA testing scheme for retinal atrophy in golden retrievers as well as a new control scheme for reducing night blindness in briards.
The Kennel Club has announced that it has approved a new DNA testing scheme in golden retrievers and a new DNA control scheme in briards.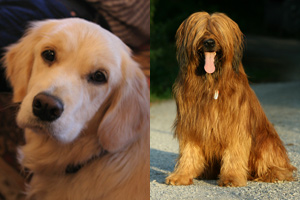 Following a request from the Golden Retriever Breed Council, the club has approved a test for progressive retinal atrophy (GR_PRA2) in the breed. The test is to be offered by the Animal Health Trust and results will be sent directly to The Kennel Club from January 1, 2013.
The test result will be added to the dog's details on the registration database, which will trigger the publication of the test result in the next available Breed Records Supplement. The result will also appear on any new registration certificate issued for the dog.
Meanwhile, at the request of the Briard Club, The Kennel Club has approved a new DNA control scheme for congenital stationary night blindness (CSNB) in the breed.
The purpose of the scheme, says the club, is to "eliminate" CSNB within the breed, by setting out a number of steps breeders should adhere to ensure puppies with the condition are not bred.
The steps are:
1.  All briards used for breeding should be either proven hereditarily clear of CSNB; or have a CSNB DNA test before they are used for breeding;
2.  Identified carriers may be used for breeding providing they are only mated to a briard that is either hereditarily clear or DNA tested clear of CSNB. Carriers should not be mated to carriers and The Kennel Club will refuse to register any progeny resulting from such a mating.
3. All of the offspring of a carrier mated to a clear should be clearly identified, DNA tested and registered as either tested clear or a carrier.
These protocols will also come into effect on January 1, 2013. For more information, contact The Kennel Club's health and breeder services department.

Golden retriever image © gozdeo, briard image © Zuzule