A new campaign of TV adverts has been launched by the Territorial Army to encourage vets and other specialists to sign up for action.
Vets are among the specialist professionals being targeted by a new recruitment drive from the Territorial Army (TA).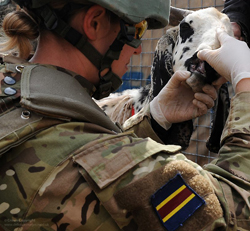 A series of television adverts has been launched to demonstrate the opportunities for specialist professionals, such as vets, with the TA and raise awareness of the Army's current recruitment targets.
The Royal Army Veterinary Corps (RAVC) provides an opportunity for vets looking to do something extra with their time and seeking a rewarding experience outside of normal working hours. The RAVC offers vets the chance to experience Army life, but are unable to make a full-time commitment.
A career with the RAVC involves providing the service lead in the development of good husbandry, training practice, preventive medicine and care for service animals.
The RAVC is deeply involved with all aspects of military animal activity, from ceremonial duties with the Household Cavalry or The King's Troops RHA to the procurement, training and maintenance of military working dogs and their subsequent use in UK and operational theatres.
RAVC personnel are involved in all aspects of the use of animals for military purposes, from the animals' procurement through to their initial assessment and training. Ensuring the maintenance of the animals' health, welfare and fitness throughout their service life is of the highest standard enables them to be used to their full operational capacity.
The TA LIVE recruitment drive has marked an important milestone in the evolution of the TA. It is the first in a series of major recruiting campaigns to illustrate the range of opportunities available and increase the number of TA soldiers to 30,000 by 2018. Over the next 10 years, the Ministry of Defence is investing an additional £1.8 billion to improve TA soldiers' training and equipment.
Major General Ranald Munro, deputy commander land forces (reserves) said: "There has never been an advertising campaign like this. TA LIVE is an incredibly exciting opportunity to bring the TA to life and show just what a TA soldier does on the ground. We think this is a great way to demonstrate and educate the public about the role of the TA and its contribution to the UK armed forces. I know that there are plenty of people in Great Britain and Northern Ireland who can play a key role in shaping the future of the Army."
For more information, visit www.army.mod.uk/join or telephone 0845 600 80 80.