Experts from across the agricultural and veterinary industry will be heading to Cumbria to share the latest thinking in practical dairy farming.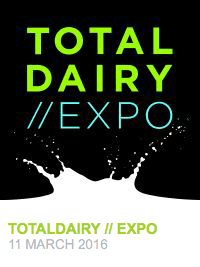 The one-day TotalDairy Expo will take place at The Shepherds conference centre in Carlisle on 11 March 2016. Tickets are on sale for the event, which will be held in conjunction with the UK Dairy Expo.
The technical dairy conference follows on from the success of the inaugural event in 2015.
Practical advice
Julia Moorhouse of event organiser EBVC said: "All speakers at the TotalDairy Expo will be delivering practical advice that can be implemented on farm.
"They will be covering five key topics relevant to all dairy businesses – mastitis, fertility, foot health, nutrition and breeding."
Speakers at the event, which runs from 10am to 4.30pm, will include:
James Breen from the University of Nottingham, who will give a talk entitled "Mastitis control – an evidence-based approach to selective dry cow therapy"
John Cook from Valley Agricultural Software, who will discuss "An approach to dairy herd reproductive management"
Other topics will include practical solutions for improved milk quality and breeding for function, not fashion.
Nick Bell of the RVC will be running a foot trimming discussion panel with three foot trimmers.
To find out more, book tickets and enter a prize draw to win a pair of farmer tickets to the event, visit www.totaldairy.com