WHO has raised the level of the swine flu alert from Phase 5 to Phase 6– its highest alert level. By raising the alert level to phase 6 WHO isdeclaring that "a global pandemic is under way".
The international health body's decision to declare a pandemic is based on the global spread of the virus rather than how severe it is. WHO considers the overall severity of the pandemic to be moderate, meaning that most people recover without the need to go to hospital or receive medical care.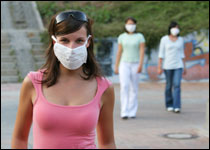 WHO's raising of its alert level will not affect the response to swine flu in the UK. The Department of Health (DoH) said that actions taken in the UK are based on the situation here and that preparations are well advanced.
Local cases of swine flu in the UK have so far been mild, with most people making a rapid and full recovery. However, a small minority have been more severe.
The DoH said that it has been preparing for the possibility of a pandemic for a number of years and that the UK among the most prepared countries in the world.
WHO remains in close talks with manufacturers of flu vaccine. Production of vaccines for seasonal influenza is expected to be completed soon. Manufacturers will then focus their full capacity on producing pandemic vaccine.