Vets are wondering exactly how a greedy puppy managed to completely swallow a child's toy arrow that was almost as long as its own body.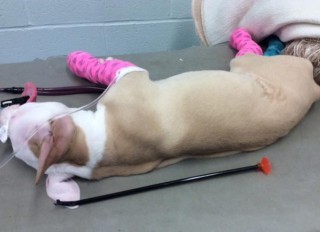 Loula, a 12-week-old Staffordshire bull terrier presented at Manor Veterinary Clinic, Folkstone after her owners noticed she kept vomiting.
They'd found a chewed cap from a pen and suspected she may have swallowed something, but weren't prepared for what vets discovered, which x-rays confirmed was a slender, foot-long object in her stomach.
Emergency operation
Vet Inga Sadykova performed life-saving emergency surgery to remove the object from the animal's stomach and gastrointestinal tract, which turned out to be a plastic arrow complete with suction cup from a toy bow and arrow set.
Head nurse Jane Lewis said: "Initially, we believed Loula may have swallowed a pen as her owners found a chewed pen lid at home; we never expected the foreign body to be so large. The arrow was a whopping 30cm long – almost as long as Loula herself.
"She is recovering well from her ordeal and is resting at home with her family who are delighted with her progress."
She added: "The team of vets and nurses here at Manor Veterinary Clinic did an amazing job ensuring Loula made it through her ordeal and we are all so pleased to see her recovering well."