North Downs Specialist Referrals to show off impressive new hospital facilities at two open days on September 17 and 24.
North Downs Specialist Referrals (NDSR) have opened the second phase of its state-of-the-art specialist referral hospital.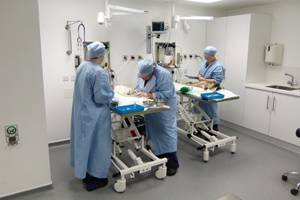 The completed project adds an additional 2,500 square metres of space, including:
a new dedicated cattery
expanded dog kenneling
a high dependency ward
additional consulting rooms
expanded theatre prep room (pictured), including new instrument care facilities
new procedure rooms, including a dedicated cardiology procedure room
Since opening the hospital four years ago, specialist numbers increased to 15, which began to put strain on the previous facilities.
NDSR director Terry Emmerson said: "The project was planned to expand all areas of the hospital necessary to support continued growth and gave an opportunity to resolve some practical issues that had arisen in the first phase.
"As well as the practicalities, great emphasis in the design was placed on the aesthetics and environment including novel ways to increase natural lighting and climate control throughout the hospital.
"The opening of this new phase is an exciting stage in the development of the hospital. It allows us to maintain our position as a specialist centre of excellence while providing an excellent working environment for our staff and patients."
To allow referring vets to view the new facilities and better understand where they refer their patients, NDSR will be hosting two open evenings on September 17 and 24, 2013.