An SQP who set up her own supplements company more than 10 years ago has won a top industry award.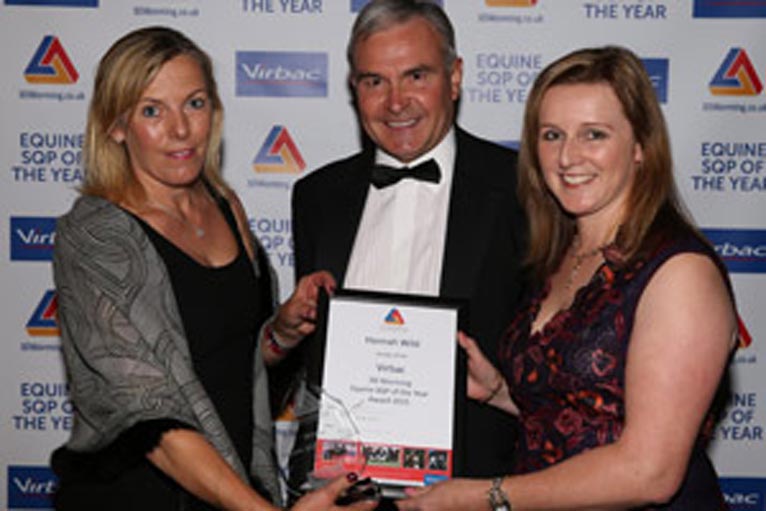 Hannah Wild from online company Supplement Solutions was crowned 2015 Virbac 3D Worming Equine SQP of the Year.
She set up Supplement Solutions in 2004 and has grown the business into a well-known brand.
Virbac technical director Chris Taylor said all the candidates were of a high calibre, but Ms Wild had demonstrated a full working practical knowledge of worming.
"Having had many years as an Animal Medicines Training Regulatory Authority (AMTRA) examiner, I know what is required in reference to the AMTRA code of practice," he said.
"Hannah was able to give correct information on worms, resistance and timing of treatments."
Supplement Solutions has won the British Equestrian Trade Association retailer of the year award four times. It operates an online sheet for customers to fill in and tailors a worming programme for each client.
Ms Wild said: '"I am over the moon to have won this award – it is a brilliant accolade.
"We want to do things right, so it's so good to be acknowledged for putting that into practice. We are online retailers, but are committed to advising our customers of the correct worming approach for the time of year.
"We have a brilliant team of just four 'can do' people and the business is operated with excellent customer service in mind.
"Virbac has always been an excellent company to deal with and I appreciate the partnership we have developed over the years."
As part of the prize Hannah enjoyed a VIP trip to the Horse of the Year Show at the NEC in Birmingham earlier this month.
For more details on the Virbac 3D Worming Equine SQP of the Year award and nominations for next year, visit www.3dworming.co.uk