Association joins dog welfare charities and Kennel Club in criticising Christmas advert from Morrisons which portrays a child feeding Christmas pudding to a dog.
The BVA has slammed supermarket giant Morrisons after it broadcast a Christmas advert showing a child feeding Christmas pudding to a dog.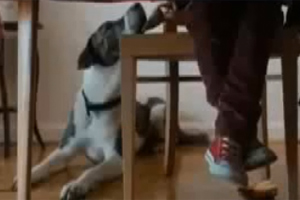 The advert – broadcast as part of the supermarket's "For Your Christmas" campaign – has riled the association for showing a child feeding the potentially poisonous food to the canine.
"It is vital that advertisers use animals responsibly and we are disappointed to see the Morrisons Christmas desserts TV commercial depicting a small boy feeding Christmas pudding to his dog," said Peter Jones, BVA president. "Christmas pudding, Christmas cake and mince pies – because they contain raisins or sultanas – are potentially harmful to pets and in some cases can lead to kidney failure.  
"While we accept that many pet owners understand what is and what is not appropriate to feed their pets, children watch adverts and can be easily influenced by what they see. Veterinary organisations and animal welfare charities work really hard to promote messages about responsible pet ownership and TV adverts such as this one, with huge audiences, can undermine this work."
The Kennel Club has also said it is worried that children will copy the advert and is, therefore, calling for it to no longer be broadcast.
"As a part of our family, we all enjoy including our dogs in our Christmas celebrations," said The Kennel Club's health and information officer, Nick Sutton. "As the Morrisons advert depicts, children often feed their dogs with food from their plates. By exposing children to this advert, it may encourage them to copy this behaviour and inadvertently poison their beloved pet dog.  
"We ask that Morrisons takes action by no longer showing this advert and educates its customers about the potentially lethal effects of feeding Christmas pudding and other Christmas treats to their dog."
A Facebook campaign to have the advert removed from broadcast has been set up. However, Morrisons have said they are to keep showing the advert and that veterinary advice was sought prior to filming the advert.
"The veterinary advice sought prior to filming concluded that there would be minimal, if any, risk to a dog of a serious toxic reaction should a small amount, in relation to its body weight, of Christmas cake or pudding be consumed on a one-off basis," said Dawn Millican, who works in the supermarket's customer services department. "We were advised that the condition has only been confirmed in respect to raw fruits and that the dog in question would need to have eaten 1 – 2.5 lbs of raw raisins/grapes for risk of toxicity to be a concern.
"With regards to whether viewers may be encouraged by the advert to feed their own pets Christmas pudding, it is maintained that responsible owners would recognise that their pets should only be fed a standard diet appropriate to the species of pet. It is worth noting that the advert showed the dog rejecting the Christmas pudding and therefore does not convey the notion that pets wish to eat this type of food.
"We will continue to promote our Morrisons Christmas desserts television advertisement."
Visit YouTube to see the advert in full.