To celebrate the start of National Pet Month, SunLife Pet Insurance has announced the launch of a free service with its cover – Courtesy Pet.
This unique new benefit, available only from SunLife, means whenever your pet is ill or injured and away having veterinary care, you get a courtesy pet replacement.
Filling the gap
Simon Stanney, general insurance director at SunLife, said: "Motor insurance has offered this service for years – a courtesy car while yours is being repaired. But what about something you'll really miss while it's away – your pet? Why are we expected to carry on regardless while Bluebell the Labrador retriever is away having her ears syringed?
"At SunLife, we understand the family pet is an important member of the household – and while they're away being treated by the vet, a courtesy pet can fill the gap. So, while your pet's in for repair, don't despair."
SunLife's Courtesy Pet uses PetMatch™ – sophisticated new technology with an algorithm that ensures the courtesy pet matches the original in some important way – perhaps because it has the same intelligence, the same number of legs or the same tendency to bite strangers.
Celebrity vet support
TV vet, author and animal welfare enthusiast Emma Milne is backing the launch. She said: "If you've ever owned a pet, you already know how much fun and affection they can bring, but they also come with some pretty powerful mental and physical health benefits. So, being away from your pet can have a really detrimental effect on family morale.
"That is why I'm keen to support to this fantastic initiative from SunLife – with Courtesy Pet, families no longer have to feel sad when their pet is away, as they get a courtesy one to enjoy until their family friend is well enough to come home.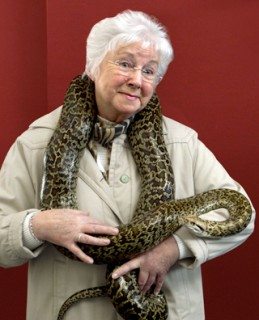 "I for one will be recommending SunLife's courtesy pet option to my clients."
Case study: replacing Winston
SunLife customer Joyce Beckett was one of the first to benefit from Courtesy Pet when her beloved cat Winston fell from a tree and broke his hip. His operation meant an overnight stay at the vets, so PetMatch™ found Mrs Beckett a suitable replacement while Winston was away.
"Winston and I spend every day together and the thought of being apart from him for even a minute was too much to bear, so I almost refused the treatment," explains Mrs Beckett. "But, thanks to SunLife Courtesy Pet, I got an ideal replacement while Winston was having his operation. They gave me Brian, a 12ft South American boa constrictor, who – just like Winston – is very fond of mice."
To celebrate the launch of the Courtesy Pet, SunLife has created a 60-second promotional video. (see below). Full details of the service are available from the SunLife website, as well as a comprehensive FAQ section.