Research into the genetic modification of insect vectors could have a game-changing impact on the control of mosquitoes and other pathogen-carrying pest insects.
It is hoped the project "Mechanisms of sex determination in Anopheles and their implementation to control mosquito vectors" will provide vital answers to the process behind sex determination in mosquitoes.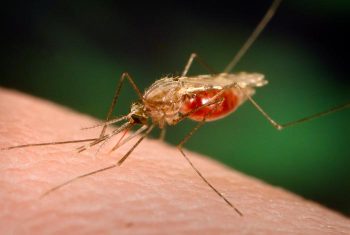 In addition to being a biting nuisance, female mosquitoes transmit numerous pathogens. Control of mosquitoes is particularly problematic because they rapidly become resistant to available insecticides.
With no new insecticidal products on the market, other control measures are "desperately needed", according to Pirbright researcher Jaroslaw Krzywinski, who is set to lead the study.
New genetic approaches
Dr Krzywinski said: "This research will significantly contribute to our understanding of sex determination in insects and will have a transformational impact on global mosquito control strategies.
"Better understanding of the components of the sex determination pathway is instrumental to the creation of new genetic approaches to controlling mosquito-borne diseases.
"It will enable us to implement genetic modification technology to cause female lethality – or, potentially, the reversal of genetic females into males; producing male-only mosquito generations."
Pirbright researchers identified a male-determining gene (called Yob) in the malaria-transmitting mosquito Anopheles gambiae. The gene, while required for the development of male embryos, is lethal to their female counterparts if incorrectly activated during development.
The findings were published in Science.
Shedding light
Via the study, Dr Krzywinski's team hopes to shed light on the molecules, which, in addition to Yob, are involved in the regulation of early development of male and female mosquitoes.
Dr Krzywinski told Veterinary Times he thought the new project was an "extremely fascinating" area of research that could have potentially far-reaching consequences.
Researchers aimed to discover which birds and mammals mosquitoes were biting to understand the potential for the UK to experience outbreaks of vector-borne diseases.
Published in Parasites and Vectors, the study was part of a PhD project carried out by Victor Brugman, and involved the intensive collection and analysis of mosquitoes from a grazing and wetland environment in the Thames Valley – a popular habitat for native and migratory birds.
'Crucial' data
Dr Brugman said: "The data we have gathered from this research is crucial in helping us understand the potential of disease threats and how we can best protect the UK's wildlife, livestock and our human population in future."
Read the full story in the 12 June issue of Veterinary Times.