A European study to evaluate the efficacy of the key anthelmintic molecules in treating equine cyathostomins has confirmed that resistance is developing against all of them, with the exception of moxidectin.
The study focused specifically on the molecules fenbendazole, pyrantel, ivermectin and moxidectin.
Resistance to fenbendazole was highlighted as a particular issue with 80 per cent of the yards tested in the UK and Germany showing resistance. Resistance to pyrantel also proved to be increasingly prevalent while cases of ivermectin resistance were emerging.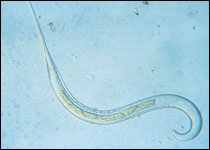 The Fort Dodge-sponsored study, the largest of its kind so far undertaken, took place during 2008 and was led by scientific teams from veterinary faculties in Italy and Germany. It was based on Faecal Egg Count Reduction Tests (FECRTs) of 1,704 horses at 102 yards in Italy, Germany and the UK. The calculation of FECR data was performed employing bootstrap analysis of group arithmetic means.
The study concluded that:
The testing of fenbendazole in a total of 80 yards showed resistance present in more than 80 per cent of the UK and German yards and in 38 per cent of Italian yards;
Pyrantel was tested in all 102 yards with resistance being found in 25 per cent of yards in all three countries;
Resistance to ivermectin was significantly lower with resistance found in only one yard in Italy and two in the UK from a total of the 102 yards tested;
No resistance to moxidectin was detected in any yard in any country;
Multiple resistance to fenbendazole and pyrantel or ivermectin was identified in all three countries, with one yard in the UK found to have resistance to fenbendazole, pyrantel and ivermectin.
Field work for the study was headed up by Donato Traversa from the University of Teramo, Italy, who said the results confirmed that single and even multiple drug resistance in equine cyathostomins is an increasing challenge in all three countries with resistance to fenbendazole and pyrantel a particular concern.
Dr Traversa said: "Our research highlights the necessity for vets, owners and managers to use those anthelmintic molecules that remain most effective in a manner which preserves their efficacy for as long as possible."
Georg von Samson Himmelstjerna, a professor at Hannover University of Veterinary Medicine, which participated in the research, said: "Given the strong impact that resistant cyathostomins are likely to have on horse welfare, future parasite control plans should be based on integrated measures, involving both the correct use of anthelmintics, such as administering the correct dosing according to the animals weight, and only using products in the species for which it is licensed, as well as other approaches such as adequate pasture hygiene, low stocking rates and mixed grazing with other animals.
"We call on all concerned with equine health and welfare to take an active role in planning and monitoring effective worm control programs."