A vet-applied otitis externa (OE) treatment could improve quality of life (QoL) for both dog and owner, according to a study.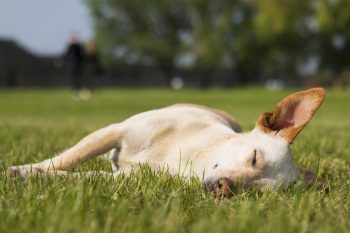 An independent study1 found the improvement in QoL in dogs with OE and their owners was "significantly greater" with Osurnia than a traditional daily treatment.
Cytological parameters
Along with a greater and more rapid improvement in QoL, the study found cytological parameters and owner-assessed pruritus also improved more quickly with the treatment.
The randomised, multi-centre study of 50 dogs with OE assessed both the owner's and the dog's QoL over a 28-day period.
Group A treated 25 dogs with Osurnia and the remaining 25 in group B were treated at home by their owners with a daily ear drop solution and twice-weekly ear cleaning.
Surprised by results
The study measured aspects deemed to impact QoL, such as behaviour and sleep patterns in dogs, and emotional stress and physical challenge in owners.
Similar QoL assessments have been made in human medicine, but it is only recently veterinary studies have begun to assess the impact of having a diseased dog on the family members and their activities.
Veterinary dermatologist Chiara Noli, who led the study, said: "I was stunned by just how big the difference between the two treatment groups was in the quality of life for both the dog and owner. It was also interesting cytological improvement and a reduction in pruritus were also seen more quickly in group A."
Reference
1. Noli C et al (2017). Impact of a terbinafine-florfenicol-betamethasone acetate otic gel on the quality of life of dogs with acute otitis externa and their owner, Veterinary Dermatology [epub ahead of publication] DOI: 10.1111/vde.12433.