Cats Protection and Dogs Trust bestow accolades on students who have worked for the organisations during extra mural studies and followed up with a report into an aspect of animal charity work.
Veterinary students from the University of Nottingham and University of Bristol have triumphed in the second annual Cats Protection and Dogs Trust extra mural studies (EMS) awards.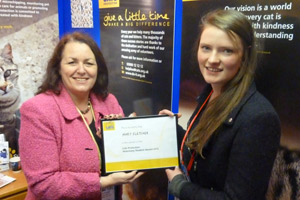 The awards, launched in 2012, are part of a scheme enabling third, fourth and fifth year veterinary students the chance to gain hands on work experience at Cats Protection or Dogs Trust to enhance their university studies. Following their time at either charity, students have the opportunity to submit reports on a subject relevant to animal charity work, which are judged by the two organisations.
Nottingham student Mary Fletcher won the top Cats Protection award for her report on environmental enrichment for cats in rehoming centres, while Richard Hesketh from Bristol vet school won the top Dogs Trust accolade for his report on adapting to a kennel environment. Both take home prizes of £500.
Cats Protection's directory of veterinary services Maggie Roberts said: "We had many fantastic entries and although this made it difficult for Cats Protection to select the winners, a big congratulations goes to all those who have taken home the prizes and I hope the experience will be useful to them in their future careers."
Dogs Trust veterinary director Paula Boyden said the EMS scheme was receiving an "incredible amount of positive feedback".
She added: "The initiative is a great opportunity for vet students to focus not only on clinical aspects of veterinary work but the behavioural side too. The level of submitted entries was extremely high and I send many congratulations to all involved."
Runner up for the Cats Protection award was Miriam Kaltz from Cambridge vet school while Troy Jackson from the RVC and Freja Dunnet from Bristol vet school were announced as finalists. The runner up for the Dogs Trust award was Gloria Feltham of Bristol while Rachel Ottridge, also of Bristol and Susan Price of Nottingham, were finalists. The runners up were awarded £250 while the finalists received certificates.