The winners of the British Veterinary Behaviour Association (BVBA) student awards for 2017 have been announced.
Formally the Companion Animal Behaviour Therapy Study Group, the BVBA's Veterinary Studies Awards recognise and support the study of behaviour by veterinary students.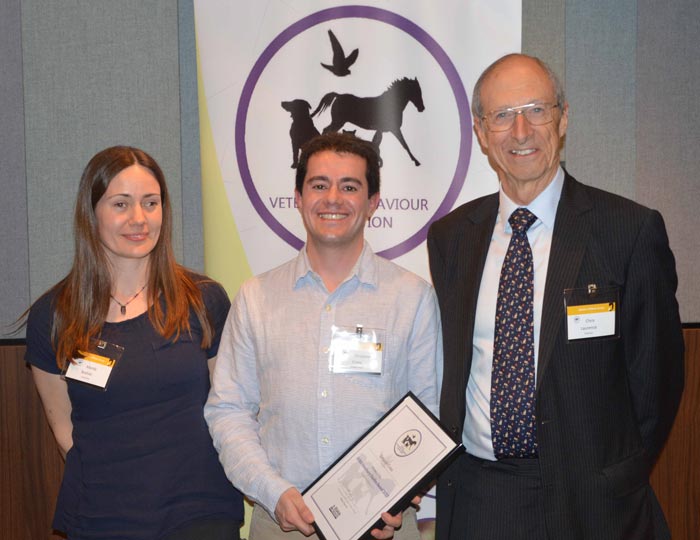 At the association's study day at BSAVA Congress, BVBA chairman Chris Laurence named this year's overall winner as Benjamin Cross, a third year vet student from the University of Edinburgh, who scooped £200.
Human-animal bond
Mr Cross won for his work into advice offered to clients, which identified there were "great opportunities" to improve the human-animal bond and patient welfare through:
preventive behavioural care
early interventions in behaviour concerns
distribution of good advice
reduction of stress in patients
increases in owner compliance by training patients to enjoy treatments and handling
The runner up was fourth-year University of Nottingham student Francesca Davidson, who received attention for her work into how to recognise signs of anxiety as indicators of compromised welfare in a clinical setting, and how to implement measures to ameliorate patients' stress.
Prizes
Both winners will receive membership to BVBA, access to webinars, and a travel grant for a future study day.
A BVBA spokesman said: "The veterinary profession is often criticised for overlooking behaviour. Therefore the BVBA has been buoyed by the engagement in this award by the institutions involved in training veterinary professionals.
"We are hopeful the insights applicants have shared are thoughts permeating through the profession. Congratulations to both our award holders."