Two final-year vet students from the University of Liverpool have returned from a trip to India, where they viewed practice by helping out charity Help in Suffering.
Two final-year veterinary students have completed a period of seeing practice at an Indian charity.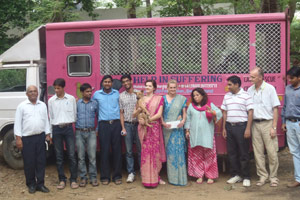 Josie Cocks and Fran Haddock of the University of Liverpool spent four weeks at Help in Suffering, an animal welfare charity based in Jaipur, Rajasthan. They gained veterinary skills and experienced the way of life in India.
Miss Cocks said: "We have had an amazing time. We learned a lot and the Help in Suffering staff have been so welcoming and kind."
Help in Suffering relies on donations, but does not charge veterinary students to see practice at it's charity premises. Instead, the students raised funds to support the organisation. Miss Haddock ran a half-marathon and both baked buns and cakes to sell.
During their stay, the girls presented the charity with £200 as well as contributing to their board and lodging.
Timmie Kumar, managing trustee of Help in Suffering said: "It is wonderful that these enthusiastic young students could contribute so generously both practically and financially to our work for animals."