A severely injured Bulgarian stray dog has received an innovative skin graft operation just in time for Christmas.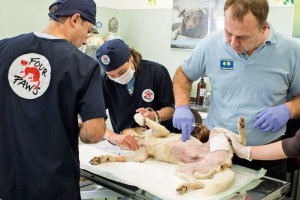 The dog, Johnny, had a large patch of skin missing from his back and was taken to the Four Paws Stray Animal Care clinic in Sofia, where he received treatment immediately.
Project manager Margarita Chankova said: "We did everything in our power to help Johnny, but every time we had to change his bandages he flinched, was very stressed and had to go through a lot of pain."
Professional wound manager Dieter Ponweiser travelled to Sofia with special equipment needed for the innovative surgery. Wound care and regenerative medicine company Ponweiser and Acelity provided the equipment and the expert was supported by Four Paws' on-site vet.
The surgery proceeded without complications and Johnny woke easily after anaesthesia. He is now on the road to recovery.
Johnny was treated using Acelity's CelluTome Epidermal Harvesting system, a device that harvests epidermal micrografts from a patient donor site which are transferred to a recipient site on the same patient. The procedure is known as autologous skin grafting.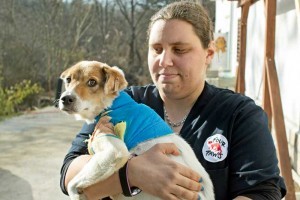 In a three-hour surgery, Mr Ponweiser took micrografts from one area of the dog's body and transferred them to the wound site to aid the healing process.
Mr Ponweiser said: "The main advantage of this method is that the recovery period is much shorter in comparison to a conservative treatment, and it is much less painful and entails less risks in comparison to classic skin transplants."
Prior to operating on Johnny, Mr Ponweiser had only performed the epidermal skin grafting procedure on humans and horses.
When performed on humans, the procedure does not require anaesthesia; however, Johnny was anaesthetised for welfare and safety reasons and carefully monitored by the vet team.