DEFRA has urged practitioners to remain vigilant for symptoms ofbluetongue virus (BTV) and warned of cases appearing "out of the blue".
The UK's chief veterinary officer Nigel Gibbens has warned that DEFRA is looking to vets to continue the vaccination campaign against BTV to provide good surveillance over the winter and to inform BTV policy in 2010.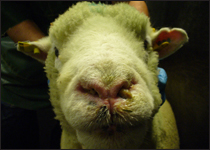 He said that symptoms of BTV could be overlooked, as they were similar to other conditions, and that the UK had seen a decline in the number of suspected cases of the disease. There were 40 suspected cases of BTV last year, compared to seven in 2009.
Prof Gibbens said: "People aren't so alert to BTV, and DEFRA wants to encourage farmers and vets to look out for it, which will allow us to inform the farming industry about the true risks they face from the disease.
"The message that we're trying to get across is one of vigilance and we'd really like farmers and vets to maintain awareness of the disease and report to us. If we don't look we won't find."
He went on to explain that BTV incursions came in waves and that the UK was still at risk from the disease.
"BTV could come back," he said. "We have much less immunity than last year and if BTV is present then we are at risk and could see a lot of cases come out of the blue. So far we are lucky in that Europe has given us an early warning."
Photo: Institute for Animal Health