Horses prone to laminitis can now benefit from a low-calorie fibre feed that can be used as a complete replacement for hay, thanks to health and nutrition experts Spillers.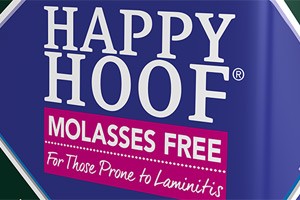 Happy Hoof Molasses Free is a blend of straw, alfalfa, grass nuts, garlic and rapeseed oil. It also contains a high level of biotin (5mg per kg).
The short chopped form is specifically designed to extend eating time.
Spillers registered nutritionist Clare Barfoot said: "If your customers are looking to restrict the amount of sugar in their horse's diet they should be reminded they need to pay careful attention to the whole diet, particularly grazing and forage.
"However, for those concerned by the inclusion of molasses we have developed a molasses-free version of Spillers Happy Hoof so you can offer the choice.
Happy Hoof Molasses Free is approved by the Laminitis Trust.