More Than Pet Insurance teams up with celebrity chef Simon Rimmer to create and sell the first fine dining meal for cats to raise money for the RSPCA.
More Than Pet Insurance has teamed up with celebrity chef Simon Rimmer to create and sell the first fine dining meal for cats.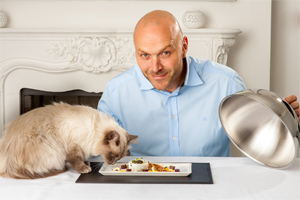 Fifty portions of the dish are to go on sale today (June 28, 2013) for just two hours in Covent Garden, and will sell for £24.99 a portion. The proceeds will go to the Royal Society for the Prevention of Cruelty to Animals.
Known as Chat Délices, the dish wouldn't look out of place on the menu of a Michelin-starred restaurant, as it features tender leg of roasted duck, luxurious lobster sushi roll and Beluga caviar. It could also be eaten by humans.
According to More Than, the dish has been scientifically developed with vets using the latest insights into feline nutrition, so ingredients and quantities have been chosen according to a cat's strict dietary requirements.
One advisor was vet Joe Inglis. He said: "Quite possibly, the biggest problem facing cats today is their owners feeding them unhealthy meals on a daily basis, resulting in obesity and many other health complications.
"While this dish is indeed a special treat for felines, owners can feel safe in the knowledge that it is has been specifically designed for a cat's biology; with a cat's health, safety and nutrition right at the forefront."
Chef Simon Rimmer said: "I'm used to creating recipes that will please a human palate and, despite being a cat owner myself, the first fine dining dish for cats was uncharted territory for me. However, by working closely with animal experts we've created a dish that is not only good for cats, but is also a 'once-in-nine-lifetimes' food experience for them."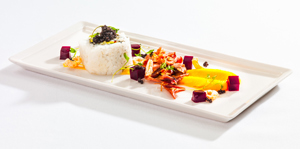 More Than's John Ellenger concluded: "Many owners regard their cats as part of the family and they want them to have the very best. This dish is about giving owners the chance to do something different for their beloved cats and responsibly treat them to a food experience like no other."
The meal will go on sale to the public today between 3pm and 5pm from the IceTank kitchen on Grape Street in Covent Garden. Each dish will be prepared by Simon and packaged in luxury cat-themed boxes before being sold on a first-come, first-served basis.
To view the full Chat Délices recipe, an alternative that can be made using cheaper ingredients, or a video of Simon making the dish, visit More Than's website.