Phil Kenward of Farm Vets South West in Bridgwater has won an impressive bottle of port after providing the best piece of practical advice in a VBF competition to celebrate the launch of its new advice book.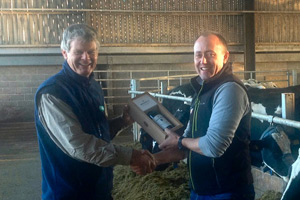 A pearl of wisdom from a Somerset-based practitioner has won a Veterinary Benevolent Fund (VBF) prize for the best piece of practical vet advice.
Phil Kenward, from Farm Vets South West in Bridgwater, provided the winning tip in a competition at BCVA Congress that saw members of the profession entering their best advice tidbits.
Mr Kenward's winning tip – "Do not allow the owner's diagnosis of his problem to worry or influence you before you examine the animal yourself" – won him a bottle of port, donated by Elanco and presented to him by Dave Selway, the company's south west account manager.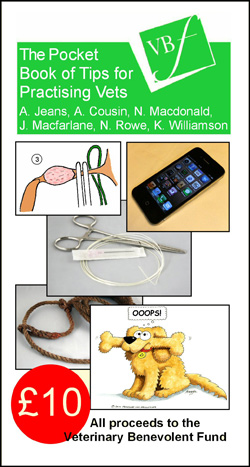 The competition was run to celebrate the launch of VBF's The Pocket Book of Tips for Practising Vets, which can be ordered on-line from the Vetlife website to raise funds for the charity. Aimed primarily at new or recent graduates, the book contains tips and techniques that are used every day in veterinary practice, but are the kind of thing that you only learn on the job.
VBF president Lydia Brown said: "This book has been a monumental effort by six mixed practice vets, to both share their experience with the profession and to provide very welcome funds for the veterinary profession's own charity.  
"We are currently raising money for the new Vet Helpline e-mail support service that will launch at the end of the year, so we are extremely grateful to everybody concerned for all their efforts."
The book can be purchased in paperback by sending a suggested donation of £10 to VBF, 7 Mansfield Street, London W1G 9NQ, or you can subscribe to receive them as regular e-tips on the Vetlife website.