Lincolnshire VN Sam Shand spends her spare time educating children and fundraising for local charities – and now she's been recognised with a prestigious charity award…
A Lincolnshire VN has been named as the top nurse of 2012 by a leading pet charity.
Sam Shand, of Quarrington Veterinary Surgery in Sleaford, was awarded the Blue Cross VN of the Year Award at this year's BVNA Congress awards ceremony on October 7, 2012.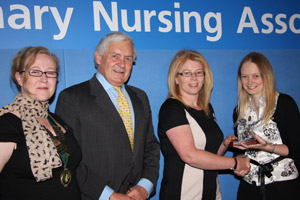 Speaking after receiving her award, she said she was completely gobsmacked to win the award.
She said: "The news came totally out-of-the-blue and I was very moved and even quite tearful. It is so nice to get this recognition, not just for me but for all of the practice."
Sam impressed Blue Cross judges with her dedication in practice, as well as her tireless efforts outside of work in educating school children and raising money for local charities.
Quarrington practice manager Helen Fry said the practice was extremely proud of Sam.
She said: "Sam is passionate about caring for animals and her enthusiasm for their welfare reaches beyond the surgery.
"Sam works tirelessly to look after the animals in our care and still has the energy to use her free time to educate youngsters and fund-raise for numerous charities. She is currently compiling a book of animal stories to teach children about pet care."
Image courtesy of BVNA