Botzman the Siberian tiger joins Whipsnade Zoo European Endandered Species Program.
A RARE Siberian tiger has made his debut at Whipsnade Zoo.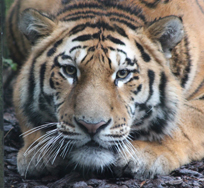 After travelling almost 2,000 miles to join the zoo from Moscow just before Christmas, 18-month-old Botzman spent a few weeks settling in behind the scenes before making his first public appearance last Friday (February 1).
Keepers spotted the youngster, who weighs in at a hefty 158kg (25 stone), excitedly exploring his new paddock and playing in the last bit of snow as he investigates his new home.
Senior keeper Siobhan Sellwood-Brown said: "Botzman is settling in really well. He's extremely lively and very inquisitive – it's fantastic to see him enjoying his new surroundings. He's a beautiful boy; visitors are fascinated by him."
Botzman joins Whipsnade's female Siberian tiger, Anastasia, in their Tiger Falls enclosure where keepers are gradually introducing the pair before they meet each other properly in a few weeks' time.
The Siberian – also known as the Amur tiger – is the biggest subspecies of tiger but is endangered with only a few hundred left in the world.
Botzman is an important part of the European Endangered species Programme (EEP) for Amur tigers, and it is hoped he will go on to breed at Whipsnade in the future.