The BVA and BCVA have warned that Scotland could still be exposed to anincreasing risk of disease unless it implements the most stringent ofdisease controls.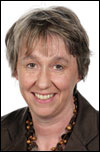 The comment comes in response to Europe's decision to recognise Scotland as Officially Tuberculosis Free (OTF) on September 8. New measures will be introduced over several months, including additional bovine TB testing for cattle sourced from England and Wales.
BVA President Nicky Paull said: "While the decision highlights Scotland's success in keeping its herds free from disease, particularly when measured against increased incidence in many parts of England and Wales, the devil will be in the detail of how the measures will work. Close attention must now be paid to the design and implementation of the new rules to ensure that they minimise the risk of bovine TB returning.
She stressed: "Vets must be involved in the design and implementation of the new rules as they are best placed to advise farmers in Scotland on biosecurity and ensuring sustainable herd health."
The BVA and BCVA warned that livestock owners across the UK must continue to be aware of the risks of buying in any disease, including bovine TB, and continue to assess disease risks when bringing animals from any location onto their holding.

Carl Padgett, senior vice president of BCVA, said: "This is a tremendous achievement for Scotland and is a result of the excellent relationship the Scottish Government and the Scottish farming industry.
However, he added: "Bovine TB doesn't recognise devolved administration boundaries, and much will depend upon the final rules to be agreed between Scottish Government and the rest of the UK which are to be mutually developed.
"The need for Scottish farmers to source cattle for rearing and finishing units has the perverse potential to increase bovine TB risk for Scotland by increasing the numbers of animals bought from higher risk areas that are already subject to pre-movement testing; the rules must mitigate this risk. Farms straddling the Scottish/English border will also need to be carefully considered."