The second Cx Congress – the only national CPD event dedicated to the unique needs of customer experience professionals – will take place on 25 June at East Midlands Airport.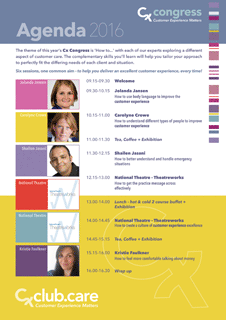 The agenda features expert speakers, workshop sessions and an exhibition. The theme of the day is "How to…", with six interactive sessions each exploring a different, yet complementary, aspect of customer care.
Personality types
Among the internationally respected experts taking part are Carolyne Crowe, who will look at how we can improve the customer experience by understanding the different personality types of our clients, and Yolande Jansen, who will explore the crucial role of body language in communication.
In addition, two interactive sessions delivered by the National Theatre promise to deliver "genuinely different CPD".
Early bird
Delegates can purchase tickets at 2015 prices until the end of January only – single tickets are held at £165 + VAT, with the practice pack of four tickets offering "unbeatable value" at £130 + VAT per person.
For more information on the Cx Congress, the Cxclub of which it is a part, or to book tickets, visit www.cxclub.care/cx-congress or call 01476 565343.