Michael Moore visits institute yesterday to learn about the centre's research and collaboration on animal health and welfare and food security.
The secretary of state for Scotland visited The Roslin Institute yesterday (March 21, 2013) to learn about the centre's research on animal health and welfare and food security.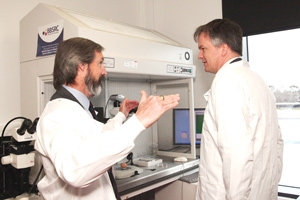 During his visit, Michael Moore spoke to researchers at Roslin – which is part of the Royal (Dick) School of Veterinary Studies based at the University of Edinburgh's Easter Bush campus – and was told how applications from the institute's work could be used for both human and veterinary medicine.
Greeted on arrival by Charlie Jeffery, Edinburgh's vice-principal for public policy and impact, the MP for Berwickshire, Roxburgh and Selkirk was then introduced to David Hume, director of Roslin, David Argyle, head of the Royal Dick, and Bob Webb, principal and chief executive of Scotland's Rural College – some researchers of which are also based at the institute – and was given an overview of collaborations and research between the organisations.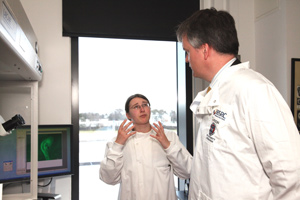 Mr Moore said: "I was very pleased to visit The Roslin Institute today and see first hand why it is considered to be at the forefront of tackling issues such as animal health and welfare. Through centres for research like The Roslin Institute, Scotland's world-class life sciences capabilities are being fully realised."
Prof Hume said: "It is a pleasure to update Mr Moore about the developments at Easter Bush.
"As an MP from a rural constituency, Mr Moore appreciates the issues facing us all in relation to food security and he recognises the major research effort that will be required over the coming years to develop agriculture to produce enough food for a growing world population."