A code of practice on the care of horses and ponies has been launched in Scotland today (May 7) to help owners comply with strict animal health laws.
The code is the first of its kind for companion animal species and will be vital to ensuring continuing high standards of animal welfare in Scotland.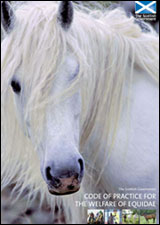 Drawn up in consultation with horse professionals and animal welfare organisations, the code offers a step by step guide on how to care for horses, ponies, donkeys and hybrids (such as mules). It covers laws on horse passports, exercise and shelter as well as how to care for injured animals.
Richard Lochhead Cabinet Secretary for Rural Affairs said: "The Animal Health and Welfare (Scotland) Act 2006 introduced a legal duty of care on owners to ensure they take all reasonable steps to ensure an animal's welfare.
"More than 400 leading organisations and individuals have been involved in drafting this code which highlights the relevant legal requirements on the care of horses as well as offering examples of best practice.
"The code, whilst not legally binding, can be used as evidence to demonstrate that an owner has taken reasonable steps to manage the health and welfare of an animal should they find themselves accused of ill-treatment or neglect."
Scottish SPCA chief superintendent Mike Flynn said: "This code is extremely welcome and provides invaluable advice for owners. The Scottish SPCA advocates responsible animal ownership at all times and has been supportive of this code throughout its development."
Images from The Scottish Government Code of Practice for the Welfare of Equidae