Eleven-year old Susannah from Hampstead was treated to abehind-the-scenes tour of the PDSA PetAid hospital in Hendon after winning a National Geographic Kids Clubcompetition organised by the RCVS in partnership with the PDSA.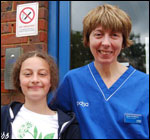 The competition was part of a feature the magazine to help educate young readers about what it means to be a vet and the range of careers available to them – an extension of the RCVS 'Walks of Life' campaign. Susannah had to invent a toy to keep a pet happy when everyone's out and designed a robotic dogsitter.
Susannah had lunch with the practice team on July 16, before being shown all areas of the PetAid hospital by Senior Veterinary Surgeon, Elaine Pendlebury, including watching an operation on a dog's ear and a visit to a post-operative ward.
Susannah said: "It was really interesting to see all the different sorts of things that vets do – there was an x-ray of a cat with a broken leg and then I saw the x-ray taken after the vet had pinned its leg back together. They also showed me the blood pressure and heart rate monitoring machines."
Pictured (left) is Susannah's winning design: the Deluxe Doggy Delighter!