An ultrasound scanner donated to an animal charity in south Sri Lanka could help more than 100,000 dogs in need.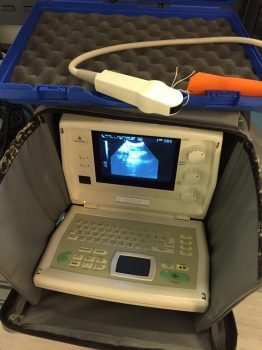 Vet Janey Lowes, who founded charity WECare Worldwide in 2014 to provide free treatment to animals globally, has spoken of her delight at the donation from veterinary imaging company BCF Technology.
Revolutionising treatment
Dr Lowes said: "BCF providing us with an ultrasound machine to use in the South of Sri Lanka is an absolute game changer in a country where there are only two other scanners nationwide.
"It will be invaluable and allow us to open up the option of diagnostic imaging to over 100,000 dogs in need, revolutionising the standard of treatment we can provide. Thank you so much BCF."
Making a difference
BCF managing director Gavin Mitchell said: "It is great to see such a determined individual working tirelessly to make a difference to animal care. One of our company beliefs is to give back to the veterinary community.
"We gave a scanner to Janey and she has been waiting to raise enough funds to send a shipping container of materials to Sri Lanka. I am delighted to hear the container is scheduled to leave the UK and we are sure the imaging equipment will be a great help."
The story of how Dr Lowes founded the charity was featured on the BBC's Inside Out North East and Cumbria on 23 January.