New research has shown, for the first time, detailed mechanics of how ostriches use their leg muscles to drive motion.
Published in the Journal of the Royal Society Interface, the study focused on the muscles used by the world's fastest two-legged animal when walking and running.
It combined existing gait data with a newly developed computer model of the detailed anatomy of ostrich legs to generate simulations of ostriches walking and running, which predicted muscle movements, forces and mechanical work.
Elastic energy storage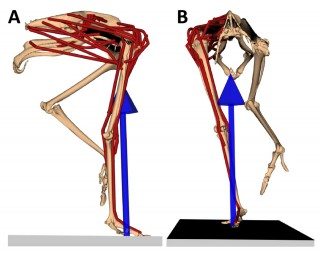 The study's application of cutting-edge computer simulations showed individual muscles tended to be excited primarily either when the foot was on or off the ground, rather than a more complex pattern of excitation.
This finding is consistent with previous experimental studies that recorded the level of electrical activity of muscle tissue in other birds.
However, the knee joints acted as brakes, absorbing energy, even though work and force estimates showed ostrich gaits are partially hip-driven, with bi-articular hip-to-knee muscles driving the ostrich forward while a foot is on the ground.
The toe flexor tendons generated large amounts of energy both to slow down and speed up the ostrich, with increased magnitudes during running, providing further evidence ostriches make extensive use of tendinous elastic energy storage to improve their economy.
Satisfying results
The research was led by RVC scientists Jeffery Rankin, a post-doctoral research fellow in biomechanics modelling and simulation, and John Hutchinson, a professor of evolutionary biomechanics. They worked in collaboration with Jonas Rubenson of Pennsylvania State University in the US.
Prof Hutchinson said: "This study allowed us to estimate in great detail, in ways we never could measure experimentally for the entire limb musculature, how ostriches control their walking and running motions.
"It's very satisfying the results from the computer optimisations matched other results from experimental studies of smaller bird species. Our simulations also highlighted the need to carefully consider non-muscular soft tissues that may play a role in ostrich gait."