Students from the RVC Christian Union (CU) met with members of the Veterinary Christian Fellowship (VCF) to share ideas and get to know each other better.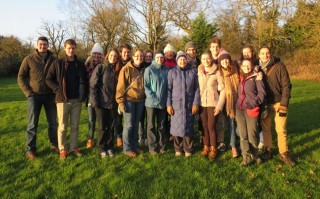 Students at the Hawkshead campus hosted the meeting and were joined by students from Camden and vets in general practice. They enjoyed coffee, lunch and a walk together.
Biblical vet references
Prof Paul Manning looked at the group's understanding of work and how their faith plays in it. He looked at a number of Bible references, such as Genesis chapter 2, verse 15, which says God placed Adam in the garden of Eden to work it and take care of it. Proverbs 12:10 says: "A good man cares for his animals."
Nick Garside, a 2015 RVC graduate and former RVC CU member, shared memories of his first few months in practice and some of the joys and challenges he has faced.
Support
Many of the students present were VCF members, but VCF secretary Ali Budgell was able to discuss the types of support available for students through their time at university, once they graduate and in whatever area of practice they go into.
With the VCF conferences taking place at the end of February, it was an opportunity to look at how they can encourage and support not only students and new graduates, but those in all areas of the veterinary profession.