The RVC biosciences degree programmes have been formally awarded accreditation by the Royal Society of Biology (RSB) at its 2016 awards ceremony.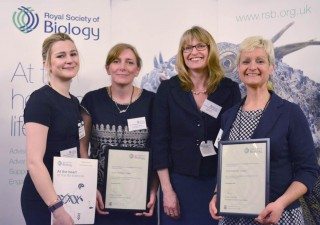 This accreditation complements the RVC's national ranking among the top 10 universities for biosciences degrees.
Academic excellence
Presented at the House of Commons in April, the RSB awards recognise bioscience degree programmes that promote academic excellence and prepare graduates for employment in biosciences.
The ceremony, sponsored by Nicola Blackwood MP and Stephen Metcalfe MP, was attended by representatives from the industry and the academic community, as well as the society's member organisations.
Mark Downs, chief executive of the RSB, who presented the awards said: "We hope that through the degree accreditation and advanced accreditation programmes, and the employer engagement work we have been doing, we can add real value to the individuals, the employers and the UK economy, as well as inspiring more people to study biosciences."
Important step
Charlotte Lawson, course director for the BSc/MSci biosciences programmes, added: "I believe accreditation of our BSc/MSci bioscience programme from the RSB is a hugely important step.
"The criteria for RSB accreditation has been endorsed by industry and recognise the RVC's commitment to academic rigour and developing key employability skills in our bioscience graduates."