The Royal Veterinary College has teamed up with Channel Four to produce a sciencedocumentary series exploring the anatomy and evolution of wild animals.
Filmed in front of veterinary students and lecturers at the RVC, Inside Nature's Giants uses dissection, computer-generated imagery and photography to show how the natural evolution of four species has allowed them to thrive and survive.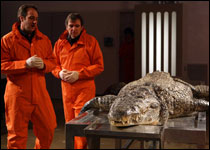 The four-part series will examine elephants, giraffes, crocodiles and whales, answering questions such as how the giraffe developed its long neck and why elephants are able to run.
The show will feature a veterinary science team from the RVC, as well as international animal anatomy, behaviour and evolution experts, including evolutionary biologist Richard Dawkins.
Alun Williams, from the RVC, said the programmes would be educational to both veterinarians and veterinary students, as well as the general public.
Professor Williams explained: "The programmes help to demonstrate why wild animals are so fascinating and what can be learned for future research that can improve their lives and their environments.
"Maximising the educational value of the postmortems through the series will help in extending the knowledge of anatomy and pathology for those in the veterinary and science sectors, for animal keepers and for the general public."
The first programme of Inside Nature's Giants is due to air on Monday, June 29 at 9pm.