Users will have the opportunity to 'grade' the Government on key animal welfare issues and comment on the 'pupil's performance'.
The RSPCA is offering people the chance to write their own report card assessing the Government in its performance on Animal Welfare.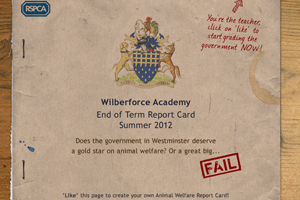 The RSPCA has launched a Facebook app in the style of an end-of-term report card so users concerned with animal welfare can share their views.
The report card Facebook app allows people to grade the Government on different animal welfare "subjects", as well as add "teacher's notes" and comment on the "pupil's performance".
The charity has published its own report, analysing what the Government has done well and where improvements need to be made.
David Bowles, director of communications, said: "What has been highlighted in this school report is the clear divide between how the public feel and how the government acts.
"The public is extremely concerned about animal welfare, as seen in the huge number of responses to consultations on badgers, circuses and laboratory animals, so it is very concerning the Government appears to have ignored these. The phrase 'could do better' certainly sums up this first report."
The report's aim is to highlight each issue against promises made and to hold the Government accountable.
The Government's grades in the RSPCA's report was as follows:
Dog control and irresponsible dog owners – E
Over-population and identification of dogs – E
Laying hens – B
Beak trimming – B
Chicken and poultry meat – C
Labelling of farm animal products – D
Game bird standards – E
Wild animals in circuses – E
Control of Bovine TB – FAIL
Regulating the use of animals in laboratories – D
Cloning – FAIL
The RSPCA Facebook app can be found here.