The RSPCA is warning about the dangers of unsafe collars after a cat was found with a diamante collar caught tightly around its leg and neck.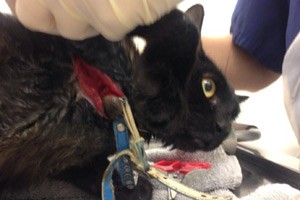 Collie the cat was found in Enfield, London by a member of the public.
The collar caused an extensive, infected wound where it had been cutting into his flesh; the injuries are expected to take more than a year to heal.
Branch chairman Christine Kerridge said: "We think he had been trying to escape the collar by putting his paw through and this caused it to pull tightly over his neck and leg and cut into his flesh."
The buckle of the collar was so embedded it had to be surgically removed. While the cat is now being cared for, it is not out of the woods yet as it may need a skin graft. The cat was not microchipped and there was no tag on the collar. The RSPCA believes it may have strayed due to being un-neutered.
Ms Kerridge said: "This incident serves as an important reminder to cat owners to only use collars that snap open without human help.
"Buckles and elasticated collars can be lethal if cats get themselves stuck somewhere. It is all very well dressing your cat up in a diamante collar so it looks nice – but owners have a responsibility to also make sure their animals are safe.
"We urge people to make sure they only use collars that snap open if caught on something. This can avoid horrific injuries like those Collie had."
Ms Kerridge added: "It is hard to know how poor Collie came to be a stray. He may well have simply got lost and have a loving owner somewhere who is desperately missing him. As he did not have a microchip we have no way of knowing.
"He may also have been a stray because he was not neutered. There are thousands of unwanted, neglected and stray cats in London, yet their plight could be easily prevented by neutering."