The UK Government has been called on to tackle the illegal puppy trade after figures revealed an increase in the number of dogs being imported into the UK from EU countries.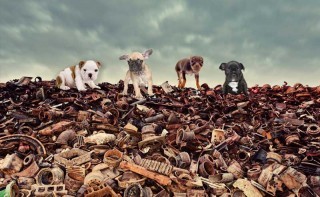 Figures released by Defra on 21 January showed the number of dogs trafficked into the UK from Ireland, Lithuania, Hungary, Poland and Romania had risen by 75% in 2015.
In total, 38% of the 93,424 dogs imported to the UK in 2015 came from these five countries – all of which have been identified as having large-scale puppy farm operations.
Commercial and non-commercial imports from Romania alone rose by 88% from 2014, making the country the largest exporter of dogs to the UK, with 10,800 coming into the country last year. Meanwhile, imports from Ireland are now being declared and are at their highest, with more than 10,000 entering the UK in 2015.
Both non-UK EU imports and commercial imports rose by 7%.
Tackle root causes plea
With this in mind, the RSPCA is calling on the Government to develop legislation to tackle the root causes of the problem – including cutting off the trade in illegally imported puppies from Europe, with increased enforcement at UK borders, and increased accountability and monitoring for anyone breeding puppies.
David Bowles, the charity's head of public affairs, said: "We are appalled by the figures released by Defra, which show the shocking scale of this problem.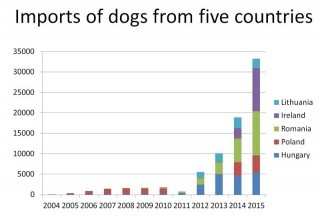 "What is particularly concerning is the number of animals coming into the UK from countries, such as Romania and Ireland, where we know puppy farmers and breeders are trying to cash in on the demand for certain dog breeds here in the UK."
Exploiting lack of enforcement
Puppy trafficking is big business and the RSPCA claims dealers are exploiting the lack of enforcement at UK ports.
Mr Bowles said: "If we are to seriously tackle the poor breeding and illegal trade in puppies, the tap needs to be switched off. We need to see an overhaul of legislation and improved enforcement that tackles the root causes of the problem."