Suggested changes include the removal of Becher's Brook and automatic withdrawal of horses that bolt and unseat jockeys, while the BHA says the horse deaths could not have been prevented.  
The RSPCA wants more changes in the Grand National to make it safer in light of two horse deaths at the 2012 event, calling it "the unacceptable face of racing".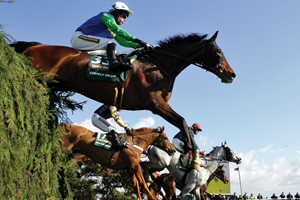 The statement is a response to the British Horseracing Authority's (BHA) review, which found the deaths were not preventable. Director of raceday operations and regulations for the BHA James Stier said: "In the case of both Synchronised and According To Pete, it was apparent that factors one could neither have foreseen nor prevented were prevalent in the events that led to the two horses sustaining their injuries."
However, Gavin Grant, chief executive of the RSPCA, said the race was still too risky for the horses, despite changes from the 2011 event. 
"We need change, a smaller and better qualified field, an end to killer fences like Becher's Brook, which we believe was instrumental in the deaths of both Synchronised and According To Pete. We hope the BHA and Aintree will work with the RSPCA to make the Grand National a true test of jockeys' skills but not at the cost of horses' lives."
Following advice from David Muir, the RSPCA's horseracing consultant, and a team of equine inspectors, who were placed at the jumps, the RSPCA is calling for the following changes to be made:
• The number of starters should be reduced and restricted to experienced horses and jockeys
• Becher's Brook is removed
• Core of fences should be re-designed to be more forgiving for horses
• Drop landings on fences levelled
• The start should be changed
• Horses that bolt and unseat jockeys to be automatically withdrawn
• Positioning of horse catchers and communications should be urgently reviewed
The BHA said it has not yet decided whether to make further changes to the Grand National course.