The RSPCA is urging people to be careful with their use of barbed wire after a hedgehog became trapped in fencing and was later euthanised.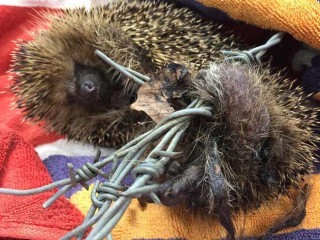 The hedgehog was found between the steel strands in barbed wire fencing in Yaxley, Cambridgeshire. It is thought the hedgehog tried to climb through a hole in fencing, where there was a makeshift repair of barbed wire, and became stuck. When it tried to wriggle free, the wire tightened its grip.
It is thought the creature was trapped for days before a member of the public found it.
Distressing
RSPCA animal collection officer Amy Reiter said: "It is one of the worst injuries I have seen. His back legs and his stomach were rotten.
"It was so distressing and I had to cut him free before I could do anything to help.
"It was so awful to see him suffering and in so much pain. Sadly, once I had been able to cut him free, I took him to a nearby vets to be euthanised."
The charity is appealing for people to take more care when repairing fencing, urging them not to use barbed wire where animals may become trapped. It recommends having fencing professionally installed and regularly checked for any wild animals that may have become trapped.