The RSPCA believes an increase in the number of tawny outlets being brought to its wildlife centre in Somerset could be from members of the public mistakenly picking up animals that do not need help.
The RSPCA has reported an influx of tawny owlets being brought to its wildlife centre in Somerset.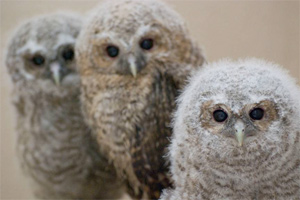 According to the animal welfare charity, 33 of the baby birds have been taken to the West Hatch Centre between January and July this year, an increase of a third from the same period last year.
The charity says it does not know "for definite" what has caused this rise, but thinks that people are mistakenly believing owlets knocked off their perch are in need of rescue.
Peter Venn, manager of the centre, said: "We've seen so many of these cute bundles of fluff this year. It's hard to know for sure why, but it could well be the windy days we have been having could be knocking them off their perch, or causing them issues.
"Sometimes they may have been found at the bottom of the tree and mistakenly picked up by people thinking they need help. In reality, tawny owlets can climb trees, so may have been able to find their way back to their nest on their own without interference.
"The good news is that the vast majority have recovered well in our care and been returned happily to the wild."
Most of the baby owls brought into the centre were found on the ground, on some occasions described as being cold and waterlogged.
The RSPCA has once again issued a warning to the public for them to think twice and seek advice before assuming baby animals found in the wild need rescuing. Often, said the charity, baby animals have a greater chance of survival if left where they are.
In the case of tawny owls, so long as the bird is not injured or in danger the best thing to do with any youngster found on the ground is put it at the bottom of the tree where its nest is.