Animal neglect and cruelty rose by a third in 2012, according to the latest annual report from the RSPCA's prosecutions department.
Convictions for animal neglect and cruelty rose by a third in 2012, a new RSPCA report reveals.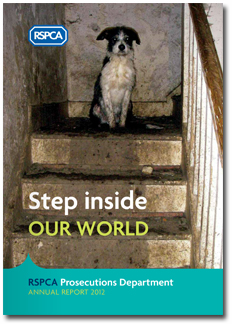 Launched during RSPCA Week, the RSPCA prosecutions annual report also shows there was a 15.7% increase in the number of defendants convicted last year in England and Wales.
Animals rescued or collected by the charity increased from 119,126 to 130,695 (plus the rescue of 64,000 farmed chickens from one flooded barn).
RSPCA chief executive Gavin Grant said: "The RSPCA is leading the fight against a growing animal cruelty crisis. Our staff, volunteers and branches show tremendous dedication but they are struggling to keep up.

"For us, prosecution is always the last resort. Our inspectors investigated 150,833 suspected cruelty cases and issued 78,090 advice notices last year – these are extremely effective in improving the care of animals.

"However if there is evidence of a crime and serious animal abuse then we will take legal action to protect the animals and prevent further abuse. We also want to see judges taking these offences far more seriously.

Mr Grant added: "More animals need our help than ever before and I urge everyone to dig deep and give us as much support as you can – hold a fundraising event during RSPCA Week, volunteer for us, or if you are able, please give a new home to an abandoned or abused animal.

"Now more than ever we need all animal lovers to stand up against a rising tide of animal cruelty. We can't do it without you."
RSPCA Week started on April 29 and ends of May 5 to find out more visit www.rspca.org.uk