Dog Awareness Week to highlight the issue of dog attacks on postal workers and appeal to owners to help keep their dogs under control when the postman or woman calls.
Royal Mail has launched the UK's first Dog Awareness Week to raise awareness of the issue of dog attacks on postmen and women.
The week – which starts today (July 15, 2013) and runs until Friday (July 19) – has been created alongside the Communication Workers Union, and is supported by a wide range of organisations including Dogs Trust, Defra, Blue Cross, Wood Green the Animals Charity and the Association of Dog Wardens.
According to Royal Mail, the week appeal to dog owners to work with the service to help keep animals under control when the postman calls, especially as there have been more than 5,500 attacks on Royal Mail postmen and women since April 2011, some leading to a permanent disabling injury. Attacks have also resulted in the loss of 4,100 working days due to injuries, it said, and more than 2,400 postmen and women were attacked across the UK by dogs from April 2012 to April 2013.
A range of activities will be taking place during Dog Awareness Week, including:
Lord De Mauley, parliamentary under secretary at Defra, becoming postman for the day when he goes out on a delivery round with a postman in London
Royal Mail postmen and women speaking about their own experiences of dog attacks
Dog Awareness posters in partnership with Dogs Trust being in place in all Royal Mail enquiry offices, and
Dogs Trust and Wood Green holding question and answer sessions on their Facebook pages with their behaviourists.
Director of health, safety and wellbeing for Royal Mail said Shaun Davis said: "We have held a number of previous one day campaigns and the awareness of the issue of dog attacks is growing. Last year the number of dog attacks on our people fell. However there were still over 2,400 incidents and we need to reduce this number further as even one dog attack on our people is one dog attack too many.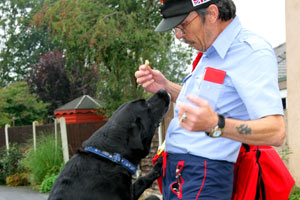 "Clearly most dogs are not inherently dangerous, however, even the most placid animal can be prone to attack if it feels its territory is being threatened. Our first priority as an employer is to ensure the welfare and safety of our people who provide a valuable service to our customers and we appeal to owners to keep their pets under control, especially if they know their pets have a territorial nature."
Head of training and behaviour at Dogs Trust Lynn Barber said: "We fully support the Royal Mail's Dog Awareness Week and hope that it raises awareness among dog owners about taking that little bit of extra time to train and help their dog for when the postman knocks on the door. Often the reaction of the dog is misconceived as plain aggression rather than the reality which is fear that manifests itself as aggression.
"There are some easy tips on how to avoid drama when the postman arrives; even taking your dog out for a walk during the time that you know the post will be delivered. Always remain calm with your dog and use positive methods to get him used to the postman arriving."
Dog owners are being urged to visit Royal Mail's website for tips on how to prevent dog attacks on postal workers.