Eight overseas vets awarded membership of RCVS after passing the statutory exam.
The RCVS president has welcomed eight overseas veterinary surgeons to the register who have passed the statutory examination for membership.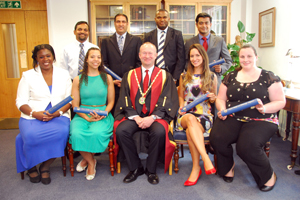 President Neil Smith conducted the ceremony (August 6, 2013) and presented certificates of membership to the newest college members.
"You have every reason to be very proud of your achievement; you don't need me to tell you that passing our statutory exam is not easy," said Col Smith.
"It has required a huge amount of work, and I am sure it has not been a smooth pathway for all of you. But, it is also something that you have not done alone, but with support from your family, friends and teachers, as well as other vets and vet nurses."
Col Smith emphasised the concept of the veterinary team and how the support offered to new veterinary surgeons was key – something he hoped the new registrants would take forward with them in their future careers.
He added: "I strongly encourage you to throw yourselves into all aspects of the profession, take part in local and national veterinary associations and commit yourselves to lifelong learning."
The statutory exam is set to enable any veterinary surgeon with a qualification not currently recognised by the RCVS to be able to practise in the UK. Candidates often have a wide variety of backgrounds and experience, and this year was no exception.
All but one had qualified some years previously and practised elsewhere in the world, and six already had postgraduate qualifications.
Pratul Patil MRCVS qualified from the University of Bombay and currently works in the Perak Turf Club in Malaysia.
"It was a very tough exam," he said. "I have specialised in racehorses for some years now, so I had to learn all about the different species again.
"Becoming an MRCVS is very prestigious, though, and will open up all sorts of opportunities for me. I will be able to work in many different countries, not just the UK, and hope to join one of the big racecourses in Singapore," he said.
Khadije Hette MRCVS, from Brazil, echoed the president's comments, adding: "The mental pressure was the hardest part of the exam, and at times I felt like giving up, but I had many people supporting me."