Veterinary stalwarts James Kirkwood and Des Thomson (pictured here with Peter Jinman) were awarded honorary fellowships of the RCVS at the regulator's annual celebratory day in London last week.
Veterinary stalwarts James Kirkwood and Des Thomson were awarded honorary fellowships of the RCVS at the regulator's annual celebratory day in London last week.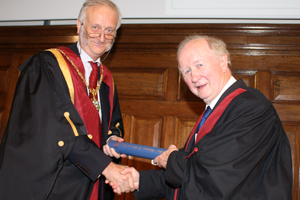 Liverpool-based academic Soraya Shirazi-Beechey was also made an associate member of the college at RCVS Day on July 1. 
Handing Mr Thompson has fellowship scroll, outgoing RCVS president Peter Jinman said the Irish veterinary stalwart was a great ambassador for the profession and an inspiration for all veterinary surgeons.
He said: "Des is remarkably humble about the positive influence he has had on the career development of hundreds of school children, students, veterinary nurses, veterinary surgeons and practice staff over the years."
Mr Thompson qualified from Trinity College in Dublin 50 years ago and retired from general practice in 2009. As well as pioneering techniques in orthopaedics, spinal surgery and hydrotherapy Mr Thompson has been involved in the development of veterinary nursing since the 1960s. In 1991 he was awarded an OBE for services to the veterinary profession.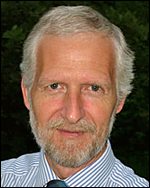 UFAW chief executive James Kirkwood was awarded an honorary fellowship in his absence. Prof Kirkwood graduated from Bristol vet school in 1975 and went on to gain a doctorate, before spending 12 years as the head of veterinary science at the Zoological Society of London. He has published more than 150 papers on animal biology, conservation and welfare and is a visiting professor at the RVC, as well as being deputy chairman of the Companion Animal Welfare Council.
Soraya Shirazi-Beechey, lecturer of molecular physiology and biochemistry at Liverpool vet school, was made an honorary associate for her contribution to the understanding of the molecular physiology of the intestinal tract of domesticated animals. Her laboratory was the first to identify the intestinal glucose sensor in equine enteroendocrine cells and demonstrate its role in regulation of intestinal glucose absorption, insulin secretion and satiety.
Mr Jinman said: "Soraya has made a huge contribution to veterinary science, both through the translation of her research findings into nutritional practice and through the education of the next generation of intestinal molecular physiologists; she is an inspirational teacher and an outstanding mentor of postgraduate research students."
In addition:
RCVS fellowships were awarded to Chris Chesney, Thomas Holland, James Carmalt and Graham Duncanson;
The newly established RCVS Charitable Trust Lifetime Contribution Award was bestowed on Norman Comben and Bruce Vivash Jones for their work administering and promoting the trust;
RCVS diplomas were awarded to James Yeates, Jonathon Reader, Adam Gow, Robert Pettitt, Richard Saunders, Anne-Marie Tarala and Simon Roch.