A "revolutionary and game-changing" medicine is set to give vets a unique method of managing transition cows – and reduce antibiotic usage at the same time.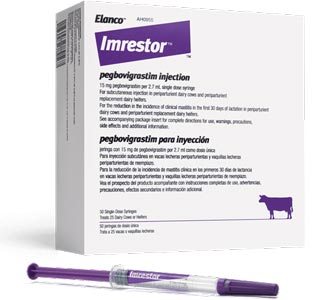 The first-of-its-kind innovation has been 26 years in the making – the past 10 by scientists at Elanco Animal Health, who have released Imrestor.
Imrestor effectively aids in restoring a cow's natural defences during the "vital 90 days" (60 days before and 30 days after calving) when dairy cows experience a dip in their natural immunity, leaving them open to diseases, such as mastitis, metritis and retained placenta.
Imrestor is a form of the naturally occurring protein cytokine, bovine granulocyte colony stimulating factor (bG-CSF) and is not an antibiotic.
New weapon
In launching the product, scores of the UK's leading dairy vets at a meeting in Preston heard Imrestor is a new weapon in their armoury to fight the major problem of immune suppression around calving.
Fiona Anderson, technical manager (ruminant division) at Elanco, said: "Imrestor really is revolutionary because it's the first product that affects the innate immune response.
"We've had many products that affect the acquired immune response – vaccines – but this is an innovation because it's the first one that affects the innate immune response, which is a non-specific ability to fight all infections."
More on the launch of Imrestor can be found in the 18 July issue of Veterinary Times.