A team from the University of Reading is set to investigate the potential economic and social impact ofAfrican Horse Sickness (AHS) control measures.
The research, which is due to beginthis week, has been commissioned by a government and industry working group – the AHS Working Group – which was founded and is led by Buckinghamshire charity The Horse Trust.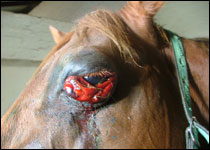 The research project, to be undertaken by Keith Allison, Tony Wilsmore and Nic Taylor, has been given £9,000 in funding to carry out this work. The results of the research will form part of the Government Control Strategy document defining how an outbreak would be managed.
Lead investigator Keith Allison said: "We are pleased to be able to carry out this work on behalf of the horse industry, into this potentially devastating disease."
For the next two months, the researchers will be approaching the horse-owning public and industry for information. In the meantime, if you have any particular issue to raise with the research team, you can email Keith on k.allison@reading.ac.uk.
The evidence produced will be used to help fight for additional funding towards the development and production of an effective vaccine against the disease, as there is currently no vaccine available for use in the UK. It will also be used to justify the need to make changes to the EU Directive and Control Strategy.
It is anticipated that the economic impact this disease would have on the £4billion horse industry would be enormous. Under the current EU Directive all equestrian activity would be prohibited as the transport of horses would effectively be banned. The social impact of the emergence of African Horse Sickness in the UK is likely to be difficult to quantify.
Organisations that have contributed towards this research include the British Equestrian Federation (BEF), British Equestrian Trade Association (BETA), British Equine Veterinary Association (BEVA), British Horseracing Authority (BHA), British Horse Society (BHS), NFU, South Essex Insurance Brokers, The Donkey Sanctuary, The Horse Trust and World Horse Welfare.

African Horse Sickness is a highly fatal and infectious disease, whichaffects horses, mules and donkeys. The disease is transmitted viaCulicoides midges, also responsible for infecting cows and sheep withthe Bluetongue virus. AHS kills 90 per cent of the horses it infectsand is endemic in sub-Saharan Africa. There is concern that AHS mayreach the UK as bluetongue has done.


AHS image courtesy of David Mullins