Ongoing research into seasonal canine illness has featured on the BBC's Sunday night Countryfile series. The edition aired on October 21 looked at the Animal Health Trust's investigations into the mystery dog illness.
Ongoing research into seasonal canine illness (SCI) has featured on the BBC's Sunday night Countryfile series.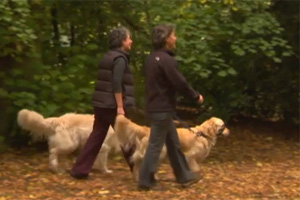 The BBC One programme on Sunday, October 21, 2012, showed how the Animal Health Trust's (AHT) investigations had improved, following funding from The Kennel Club. Donations from the organisation had enabled the AHT to employ a dedicated SCI investigator.
The programme also showed how the AHT's investigation continued at the five previously affected sites across the UK:
Clumber Park, Nottinghamshire
Rendlesham Forest, Suffolk
Sandringham Estate, Norfolk
Sherwood Forest, Nottinghamshire
Thetford Forest, Norfolk.
Richard Newton, head of epidemiology and disease surveillance at the AHT, said: "Our SCI investigation has been ongoing since we were first alerted to the illness in the autumn of 2010. Since then we have had more and more cases reported to us each autumn, but thankfully the number of dogs that are surviving has increased. We hope this is due to more owners being aware of the signs of SCI and accessing veterinary help as soon as possible.
"We want to arm dog owners with as much information as we can. Unfortunately, we are looking for a small needle in a very large hay stack, but information gleaned in 2011 has helped us to narrow this search area."
SCI – which usually comes on within 24 to 72 hours of an individual, affected dog walking in woodland in autumn – causes vomiting, diarrhoea and lethargy. These clinical signs are common and non-specific, but it is their onset within only a few hours of dogs walking in woodlands that is distinctive.
The disease claimed the lives of several dogs in the autumns of 2009, 2010 and 2011.