New research of more than 3,500 UK companies has revealed that veterinary practices are leaving clients hanging on the telephone for too long, risking business.
New research has revealed veterinary practices are at serious risk of losing business by leaving clients hanging on the telephone for too long.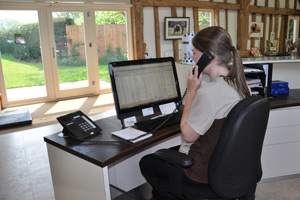 According to the survey of 3,630 UK companies – carried out by branded music specialists PH Media Group – vets are below par when it comes to call handling, leaving callers on hold for an average of 39.44 seconds. According to PH Media, this compares unfavourably to the UK average of 33.48 seconds, especially when 90% of people tend to hang up within 40 seconds when forced to listen to silence.
Vet practices also scored just 32 out of 100 on their overall call handling, taking into account elements such as:
time taken to answer a call;
the number of tiers a caller experiences before reaching the necessary department;
use of consistent voice and music;
professional and personalised voicemail; and
out-of-hours messaging.
PH Media sales and marketing director Mark Williamson said: "These results represent a significant challenge for the industry and could pose a serious threat to profitability.
"Good call handling is often overlooked as a key sales and marketing tool, but the telephone still acts as an important touchpoint and first impressions count. If each caller enjoys a positive experience, customer service standards will go through the roof.
"Good customer service is paramount for any service sector business so it is important to evaluate all aspects of call handling to ensure calls are dealt with appropriately."
Image © Jackie Morrison/VBD