Dogs Trust Newbury is celebrating its own Christmas miracle after three puppies were found alive and well after being abandoned in a stable.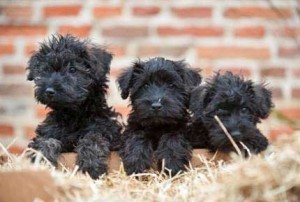 The 12-week-old crossbreed pups – given the suitably festive names Parsnip, Spud and Sprout by Dogs Trust staff – are the rehoming centre's first Christmas casualties as staff suspected they were bred to fuel the Christmas puppy trade and dumped when they weren't sold in time.
The puppies were shaken and scared when they first arrived at the Berkshire rehoming centre and staff have been caring for them around the clock to help them feel safe and loved as they recover from their ordeal.
Dogs Trust Newbury rehoming centre manger Nicki Barrow said: "It is truly shocking to see such tiny puppies abandoned in this way – especially so close to Christmas.
"Dogs Trust Newbury looks after hundreds of abandoned and unwanted dogs every year, but it still shocks us to think someone could so heartlessly abandon puppies without a single thought as to what might happen to them."
Miss Barrow added: "This year is the 37th anniversary of Dogs Trust's iconic slogan 'A dog is for life, not just for Christmas' and, sadly, it's as true today as when it was first coined.
"Every year we see a number of dogs handed into our rehoming centres in the weeks leading up to Christmas, often because they failed to sell in time to be given as presents at Christmas.
"Thankfully, we were able to help these puppies and hope they will be spending their first Christmas with responsible owners in a loving, stable home."
If you or someone you know could provide the puppies with a home, telephone Dogs Trust Newbury on 0300 303 0292 or visit the rehoming centre at Plumb Farm, Hamstead Marshall, Newbury, Berkshire, RG20 0HR.