The new RCVS "Registered VN" badge has proved extremely popular at its introductory price of just £15. However, to make sure you don't get stuck paying the full £43 price tag, place your order before Jan 31, 2012.
Hundreds of people have applied for the new RCVS "Registered VN" badge while it remains at a cut-price introductory cost.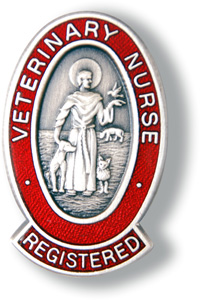 The college launched the silver and red badge, which distinguishes regulated VNs on the RCVS voluntary register, at BVNA Congress last month.
Since the beginning of October, the RCVS has received more than 200 cheques and application forms for the badge, which is currently being sold for a third of the normal price.
RCVS spokesman Lizzie Lockett said BVNA delegates were "keen to get their hands on it".
"There was certainly a lot of interest on the stand and some very positive comments about the new design," she said.
The new badge will go out free to newly qualified nurses, however, RVNs wanting to buy the badge to replace their existing one have been able to purchase it for £15. However, from February 2012, RVNs will have to pay the normal badge replacement cost of £43 if they want the new pin.     
Miss Lockett said: "£43 is the badge replacement rate for the old badge and will be the same for the new one for any orders placed after January 31."
She added: "It wouldn't be fair for people wanting a replacement VN badge to be paying £43 and those wanting an RVN badge to be paying £15 forever – so we just put in place an introductory offer."
Commenting on the need for a dedicated RVN badge VN Council head Liz Branscombe said that, while the VN title was not protected in law, the college's nursing register "shows a real commitment to developing our status as professionals".
"We need to ensure this commitment is recognised by clients and others in the veterinary team, and hope the new badge will make it easier to identify who is professionally accountable," she added.